Lately I've had such a draw to nice candles. And no, Bath & Body Works is not considered nice anymore…sorry BBW. It probably all started with the diptyque holiday set…and now I can't be tamed. Catch me on IG trolling ALLLLL the bougie candle brands (get it, because bougie means candle in french? 😏). When (MALIN + GOETZ) sent over two of their luxe candles I fell head over heels!
I put both Cannabis & Vetiver to the test- there are 8 scents total…including a NEROLI one, which I need!). Each candle is handmade & poured in Brooklyn. They use a blend of beeswax, soy, and vegetable waxes to provide a clean and better burn.
The Cannabis candle (which I featured in my 4/20 post), is a blend of sexy, spicy, and peppery notes to evoke the cannabis plant without having any cannabis in it. I like to say that this candle smells like a man you'd want to be with. And he probably smokes weed too. The notes include lemon, orange, fig, pepper, oakmoss, sandalwood, and amber-patchouli which create a particularly cologne-y scent that I'm definitely drawn to for home scents. They even recommend cocktailing this candle with the neroli one, which is even more reason as to why I need it.
The Vetiver scent is a blend of citrus, clove, cedarwood, and vetiver to give a classic, grassy, and earthy scent. This isn't a scent I'd typically gravitate towards but it is nice- I think it would work well in common areas or kitchens & bathrooms.
I find that the Cannabis candle is better than the Vetiver scent wise- it has a much better scent throw and Vetiver is much more subtle, so you can put it in a smaller room. Each candle retails for $54 each, but, having a nice smelling room is a worth investment, folks. And once the candle burns away, they recommend you use the empty glass for cocktails. Can't say no to that 🍸
Hit me with your favorite candle brands/scents in the comments so I can become a candle vlogger! And if anyone wants to get me that Neroli candle, I wouldn't say no…😉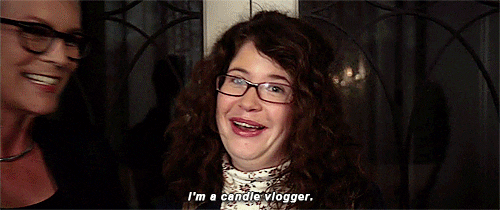 **This post contains products that I have received for free – for more information, please read my Disclosure Policy**